ENVIRONMENT & FOREST MINISTER-IN THENZAWL DEER PARK TLAWH
Environment & Forest Minister Pu H.Rohluna chuan nimin zing khan Environment & Forest Department-in Thenzawla Sazuk humhalhna hmun (Deer Park) an siam chu a hmunah tlawhin thil awmdante a enfiah.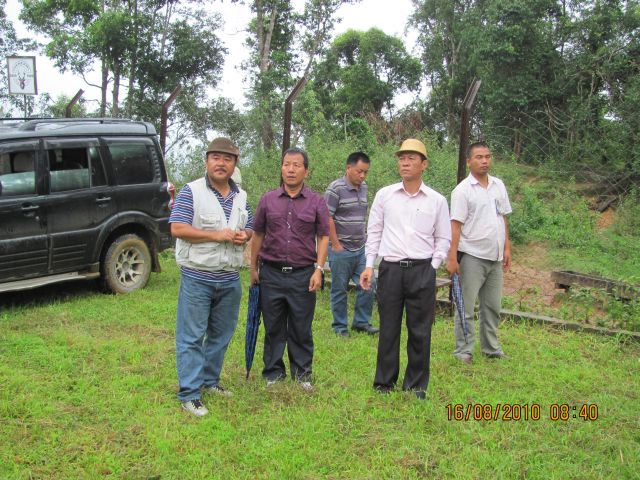 Tun dinhmunah chuan Thenzawl Deer Park ah hian Sazuk 17 (a nu 11 leh a pa 6) an awm mek a, thawktuten duat tak leh uluk takin an enkawl reng a, Deer Park pawnah Deer Park atanga tlanchhuak Sazuk nufa pahnih an awm a, heihi a chhenvel khua a mipuiten lo humhalhin thlai a pehchhiat pawhin an ti na ngai lo a, hetianga thlai an peh chhiat chang hian Environment & Forest Department-in compensation an pe thin a ni. Thenzawl leh a chheh vel khaw mipuiten nungcha humhalh kawngah an tawiawm tha hle ani tih thawktuten an sawi a ni.
Minister chuan Environment & Forest Department-in Sazuk a humhalh dan chu lungawithlak atih thu sawiin nungchate hi ram rohlu an nih avangin humhalh thiam a pawimawh bakah mipuite pawh uar leh zuala zirtirna pek an pawimawh a ni a ti a, nungcha humhalh dan tha ber pakhat chu ramngaw humhalh a, nungcha te ei duh zawng thlai leh thei rahte uar zawk a chin belh thin hi a nih thu a sawi bawk.
Minister chuan Hmuifang a tlawhnaah khawtlang hruaitute kawm in ramngaw ven him chung changa harsatna an tawh dante khawtlang hruaituten an lo hrilh a, Minister chuan hmalak dan tur ruahmanna sawipuiin Sawrkarin a theih ang anga tanpui a tum thu a lo hrilh a ni. Hei bakah hian Minister chuan Aibawka Environment & Forest Complex pawh tlawhin thuam that dan turte leh tihchangtlun dan turte a enpui bawk a ni.
Minister hi Pu Lalthangliana Murray IFS, Conservator of Forest (Central Circle) te, Pu Thangtinliana Pachuau, Jt. Controller, Legal Metrology te, Information and Public Relations Officer bakah midang thahnem takin an tawiawm a ni.